COVID – 19
Important Update
We have continued to monitor the rapidly evolving coronavirus situation and need to bring you an update on our school schedule.   Governor Doug Ducey and Superintendent Kathy Hoffman have ordered a statewide closure of schools through April 10th, 2020. Autism Academy will be closed during this time as directed by state officials and we will continue to follow the Department of Health and CDC guidelines on when to resume school. We at Autism Academy for Education and Development understand this puts many families in a difficult situation, however the health, safety and education of our students is always our number one priority!
As always, we appreciate your support and cooperation. Please be checking your email often as we will continue to keep families updated on the status of our school.  Below are some resources that might be helpful.
What is COVID – 19?
Coronavirus disease 2019 or COVID-19 is a new respiratory virus first identified in Wuhan, Hubei Province, China. Coronaviruses are a large family of viruses. There are several known coronaviruses that infect people and usually only cause mild respiratory disease, such as the common cold. Information sourced from Maricopa County Department of Public Health. (2020, March). About The Virus. Maricopa County. https://www.maricopa.gov/5488/About
AAED & The Safety Of Our Schools
Dear Parents,
As I've been watching television and social media and listening to conversations around me, there is no question that Coronavirus (COVID-19) is on everyone's mind today. We take the safety and security of our AAED school family very seriously. I wanted to take a minute to reach out and hopefully provide some encouragement and reassurance.
A recurring theme I have heard from numerous experts is that we should not be living in a state of panic or making decisions from a place of fear. As we face this Coronavirus outbreak as a community, here are the things we are doing at Autism Academy for Education and Development: we are committed to being prepared with a plan in place, we are completely disinfecting our campuses with special cleaners, and asking our staff to take extra precautions.  We are not panicked nor afraid, but we are remaining informed regarding the spread and risk of this virus utilizing the best information we have available from a variety of governmental and non-governmental organizations.
Based on the current CDC risk assessment for the general American public, who are unlikely to be exposed to this virus at this time, the immediate health risk from Coronavirus is considered LOW. As of today, there are only nine known cases of Coronavirus in Arizona. Regardless of the strain of virus, basic precautions and preventative measures to help limit the spread of contagious/respiratory diseases can be implemented.
As of today, Friday, March 20, our school schedule will resume as normal after break on April 10th, 2020. Although we have different numbers of students at each school, no school has more than 200 staff and students in attendance at any given time, therefore, as recommended, we are under the number of people per workplace or gathering they are recommending not coming in to work or school at this time. We will monitor constantly what the state recommends for schools in the days and weeks to come and consider next steps as we attain information.
Please know we understand if you choose to keep your child home during this time due to your concern, we will work with families to insure we accommodate your student to ensure their education is not interrupted and provide materials and instruction via alternative methods as needed.
We appreciate your patience as we give this situation the attention needed in the days to come. We have many exciting things coming up in the next couple months here at Autism Academy for Education and Development and we will keep a close watch and rearrange schedules and/or events as needed. Please stay tuned as the days and weeks progress for updates through email and/or website updates.
Thank you for allowing us to educate and care for your child😊
Laura Newcomb, Founder
Steps We Can Take To Help Prevent The Spread Of Viruses
Wash your hands often with soap and water for at least 20 seconds. If soap and water are not available, use an alcohol-based hand sanitizer.
Avoid touching your eyes, nose, and mouth with unwashed hands.
Avoid close contact with people who are sick.
Stay home when you are sick.
Cover your cough or sneeze with a tissue, then throw the tissue in the trash.
Clean and disinfect frequently touched objects and surfaces.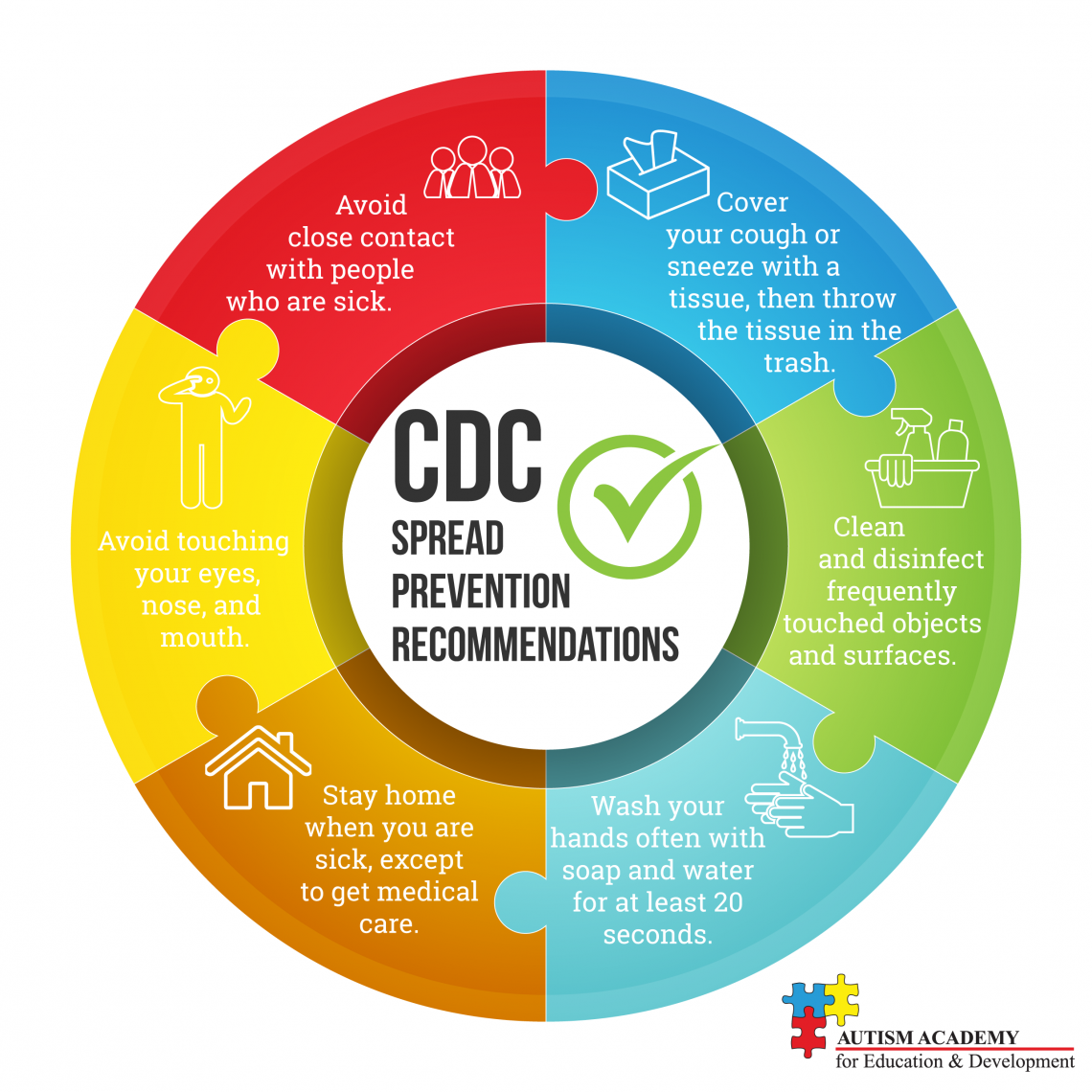 Where To Get The Latest Updates
Please visit www.maricopa.gov/coronavirus for the latest information and news in the Maricopa county area regarding the 2019 Novel Coronavirus.
Please visit www.pinalcountyaz.gov/PublicHealth/ for the latest information and news in the Pinal county area regarding the 2019 Novel Coronavirus.